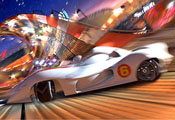 Well, as usual, he doesn't come right out and say it, but his implications are obvious.
This film looks like an absolute headache to me, and considering the Wachowski brothers have not created something that caught my fancy since the first installment of "The Matrix" nine years ago, I'm not holding my breath here. Poland's endorsement is also no shock given that he has gone into the well for the Wachowskis over and over and over again. I guess if you can find genius in "The Matrix Reloaded" and "V For Vendetta," you're bound to find it in what looks, on the surface, to be a bubble gum time warp and nothing more.
But wait, there are family values!
I doubt it's that deep, but David likes what he likes. As do we all. See for yourself.