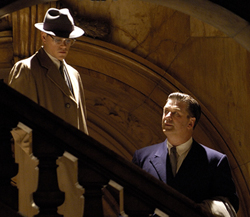 Robert De Niro's "The Good Shepherd" has been running on HBO this month. I stopped flipping to watch some of it this evening, kind of caught up in the brief year-ago nostalgia, but mostly transfixed with a film that is so close, yet so far.
I remember when I first saw the film at the Clarity screening room in Beverly Hills in December of 2006, surrounded by a typically judgmental crowd of HFPA members. I had high hopes. It was, after all, the year's most anticipated would-be Oscar film, much like 2007's "Charlie Wilson's War." There was a hell of a crew assembled for what sounded like it could be a solid, dense, but meaningful effort. The catch was that I had read Eric Roth's screenplay some months prior, and "dense" didn't begin to cover it. I knew this was a script that demanded some sort of device to dig a story, not necessarily bogged down, but still somewhat abstruse, out of the literary and onto the screen in an authoritative manner.
I had also just finished up a profile of Roth for The New York Times and had grown as fond of the man as I had his work throughout the years.
Once was enough. It didn't land right. Like "Charlie Wilson's War," the film kind of faded away and everyone now remembers it as one of those early frontrunners that fell from grace. But there is a strong film in there somewhere. There are wonderful performances, textured moments, very sound screenwriting, all of the right components.
Ironically, "Charlie" suffered from the opposite problem of "Shepherd." Aaron Sorkin's screenplay was butchered and whittled down to a swift comedy, while Roth's work was taken almost too literally by a second-time director who probably didn't know how to lift things off the page and onto the screen with the right touch of balance.
So it goes.
It's a film I would still like to watch through a few more times. There is definitely a touch of "The Godfather" in there that I personally find intoxicating. It's a script that bounced around for years and almost fell into the hands of Michael Mann right after "Heat," and who knows what he might have done with it? Any number of directors who crossed paths with Roth's work might have taken it in different directions, from Philip Kaufman to John Frankenheimer. But De Niro's take is what we have, so it remains a time capsule of what might have been.
Roth is back in the fray this year with "The Curious Case of Benjamin Button." The Johnny Depp-produced (and starrer) "Shantaram" will follow, now that the strike settlement has cleared the way. And no matter what David Fincher and Mia Nair do with those scripts, it's pretty much a guarantee that Roth will be working on different, deeper levels than his contemporaries. Just as he was with this fated CIA yarn.