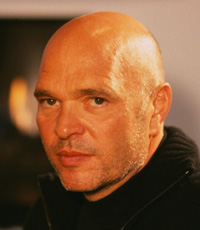 I've been tucked away on an island for the past week, stuck largely in a news vacuum and certainly free of the bindings of daily internet briefings. But it saddens me to return to the shocking news of Anthony Minghella's passing.
The Variety report indicates a brain hemorrhage as the cause of death, though Minghella's publicists, Leslie Dart, is saying that is not so. Whatever the case may be, we've been swiftly relieved of one of the cinema's most interesting voices, a man with just six films to his credit but all of them representative of the man and his convictions in some way, shape or form.
I met Minghella just once, in December of 2006 when I moderated a Q&A with him and actress Robin Wright Penn for the underrated "Breaking and Entering" in front of an audience of SAG actors. What I remember of the man is a delicate touch, a soft-spoken manner that still held a certain adoration of truth in expression.
He took the utmost care and consideration for any query, always ignorant of the stock answer and always intoxicating in his process, in explaining why he saw the world the way he did on celluloid and why he went to the deep and profoundly affecting places that he did in his work. Whatever one's opinion of his filmmaking, it would be difficult to argue with his conviction.
And now, he's gone — taken from us like some cruel joke. I'm proud to say I shared a stage with him. I'm prouder, still, to say I was able to speak with him about his craft.
If only once.
You can read producing partner Sydney Pollack's touching remembrance here, and actress Juliette Binoche's eulogy poem here.