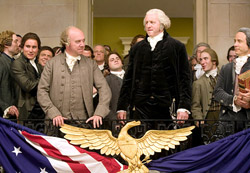 I must say, I'm slightly agitated by the approach HBO's latest mini-series, "John Adams," seems to be taking.
Granted one cannot build a 7-part event around a hero too clearly flawed, but the fact remains that Adams wasn't exactly the most noble of our founding fathers. Being a journalist, I can't personally celebrate he of the Alien and Sedition Acts without considerable pause, for instance.
The first part has been a typical conception: building the main character as an outcast set on the law first, and last. I'm not overly familiar with Adams' early professional years, but ultimately he was a part of a paranoid Federalist sect that was more terrified of the notion of true freedom than not. The specter of the guillotine had better hang heavy over other portions of the mini-series if I'm to personally take it seriously as accountable in its history.
And Paul Giamatti's Adams had better see a swift fall from the grace of this initial entry.
But hey, that's just me. Giamatti is great as always and Laura Linney, though somewhat confined so far, seems prepared to let loose in subsequent episodes.
UPDATE: Well, in taking in the lengthier second installment, I see a branching out of sorts that is delightful in its spread f somewhat "greatest hits." However, when Tom Wilkinson shows up in the early moments, it is obviously Benjamin Franklin, charisma dripping off the performance and making the actor's work truly worthy of some sort of awards attention later in the year (especially if he keeps it up throughout).
In any case, glad to see HBO taking the new year in stride. The upcoming "Generation Kill" looks like it could be topically astounding and, of course, there's always the new seasons of "Entourage" and "Flight of the Conchords" to anticipate with due glee.
It's not TV. It's left-wing muscle. We'll see if "John Adams" picks up the thematic pace.