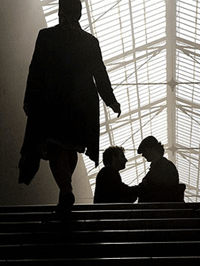 It's time to really round out the year and offer up my picks for awards in 2005.
In addition to the typical categories – which finally see their winners announced today – you'll find some other fun arenas for awards citation. Call it a mish-mash of MTV-Awards-type kudos and other frequently heralded categories we find time to time in various critics' awards and precursor ceremonies.
No one is better at this sort of thing than Nat Rogers over at The Film Experience, so I recommend you all take a look at his Film Bitch awards when he dishes them out in the coming weeks.
These will likely be my last extensive thoughts on the awards season this year, barring any brief comments I may or may not make here and/or there. There will, of course, be one final predictions update before the end of the year.
It feels good to wrap everything up before Christmas vacation, I have to tell you. But the Oscar season is by no means over, so I'll be diving right back in once 2006 finally rolls around.
Everyone be sure to have a Merry Christmas, Happy Hanukkah, Kwanzaa, whatever it is you do the last week of December, and have a very Happy New Year. I'll see you on the other side.
Enjoy the list of awards. And here's to new beginnings.
Best Picture
Last Days
Best Director
Gus Van Sant for Last Days
Best Actor
Terrence Howard in Hustle & Flow
Best Actress
Toni Collette in In Her Shoes
Best Supporting Actor
Craig T. Nelson in The Family Stone
Best Supporting Actress
Maria Bello in A History of Violence
Best Adapted Screenplay
Batman Begins
Written by David S. Goyer & Christopher Nolan
Best Original Screenplay
Crash
Written by Paul Haggis & Robert Moresco
Best Art Direction
Memoirs of a Geisha
John Myhre; Gretchen Rau
Best Cinematography
Munich
Janusz Kaminski
Best Costume Design
Memoirs of a Geisha
Colleen Atwood
Best Film Editing
March of the Penguins
Sabine Emiliani
Best Makeup
Memoirs of a Geisha
Best Music – Original Score
Batman Begins
James Newton Howard, Hans Zimmer
Best Music – Original Song
"It's Hard Out Here For a Pimp" from Hustle & Flow
Best Sound
Walk the Line
Best Sound Editing
King Kong
Best Visual Effects
King Kong (not much to pull from, but the stuff that works
here is capably on top of the rest)
Best Animated Feature
Tim Burton's Corpse Bride
Best Documentary – Feature
March of the Penguins
Most Underrated Film of the Year
The Weather Man
Most Overrated Film(s) of the Year
TIE: The Constant Gardener and Pride & Prejudice
Best Directorial Debut
Shane Black for Kiss Kiss Bang Bang
Best Breakthrough Performance (Male)
Terrence Howard in Hustle & Flow
Best Breakthrough Performance (Female)
Georgie Henley in The Chronicles of Narnia: The Lion, the Witch and the Wardrobe
Best Cameo Performance (Male)
William Hurt in A History of Violence
Best Cameo Performance (Female)
Marie-Josée Croze in Munich
Best Comedic Performance (Male)
Robert Downey Jr. in Kiss Kiss Bang Bang
Best Comedic Performance (Female)
Sarah Jessica Parker in The Family Stone
Best Ensemble Performance
The Cast of The Family Stone
Best Performance in a Bad Film
Johnny Depp in The Libertine
Worst Performance in a Good Film
Robert Patrick in Walk the Line
Best Villain
Henri Ducard/Ra's al Ghul in Batman Begins (as portrayed by Liam Neeson)
Best Oscar Campaign (Print)
Warner Bros. Pictures for Batman Begins
It has been a brilliant strategy to refrain from using any images of Batman in the trade ads for this film, focusing on Bruce Wayne throughout, ushering the story through further as a character piece, not a superhero extravaganza. The only complaint to be had is the excessive use of darkness, the black borders for the ads taking up much of the space. A better route would have been using the imagery to cover the ad space, as Universal did beautifully with their respective campaigns for Cinderella Man and Jarhead, but even still, Warner Bros. had their thoughts together for marketing this film throughout the summer and into the awards season.
Best Oscar Campaign (Face Time)
New Line Cinema for A History of Violence
David Cronenberg has never been to so many promotional functions in his life, and he'll likely never do them at this consistency again. New Line truly believed in this film this year, and they were jumping on couches and screaming "I love you." Whether it pays off with Oscar or not is yet to be seen, but the road has already led to major Golden Globe mentions. Regardless of the outcome, this was a steady, never overly blatant or unattractive campaign.
Best Poster
Lord of War
Best Trailer
Sin City (teaser)
Most Surprising Film of the Year
Last Days
Most Disappointing Film of the Year
The New World
Thank God Someone Is Attempting Original Comedy
The 40 Year Old Virgin
Not Nearly Deserving of It's Critical Thrashing
Memoirs of a Geisha
The Best Film No One Saw
New York Doll
Most Ambitious American Effort in Years
Syriana
Best Action Sequence
King Kong
The giant bugs sequence, being the most thoroughly creepy and terrifyingly well realized effects sequence of the film, deserves a lion's share of the praise Peter Jackson's film continues to receive. It also contained wonderful usage of score. Andy Serkis owned this scene almost as definitively as he did in any scene as Kong.
Best Titles Sequence (Opening)
Hustle & Flow
Splashing titles against the audible backdrop of seasoned blues, this sequence really embeds the viewer in an exploitative atmosphere, only to assassinate that stereotype throughout the course of the film. Albeit brief, this was great juxtaposition of intent.
Best Titles Sequence (Closing)
Transamerica
Thank God it was over.
Entertainer of the Year
George Clooney
Without question. Keep expressing, man.
HAPPY HOLIDAYS!
[Photo: Universal Pictures]