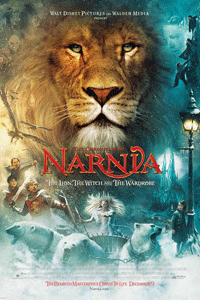 Jeff Wells is half right when he says "There's a new Best Supporting Actress contender in town…10 year-old Georgie Henley, the soul and natural light-beam of 'The Chronicles of Narnia: The Lion, the Witch and the Wardrobe'…came out of nowhere…but she's Drew Barrymore in "E.T." without the cloying I-know-I'm-cute-and-you're-going- to-adore-me attitude.
"Henley's serene little-girl aura…her beauty, obvious intelligence, cultured British accent, etc…plus the generosity of feeling from within make for a potent combination."
Henley is nowhere near a Best Supporting Actress nomination (especially with co-star Tilda Swinton chewing the scenery), but she is one of the cutest and most talented youthful actor discoveries in a long time.
"The Chronicles of Narnia: The Lion, the Witch and the Wardrobe" is inevitably going to find itself compared to Peter Jackson's "The Lord of the Rings" franchise. And in the wake of those films, it will likely come off as old news to an Academy so desperately out of touch with depth of cinema over external labeling.
That said, I'll join the coming fray and offer that, for me, "The Lion, the Witch and the Wardrobe: is more emotionally connecting and poignant on the level of speaking to the viewer in relatable ways than "The Lord of the Rings" could have ever hoped to be. But that's all I will offer on the matter, because no matter how you slice it, it is a bit unfair to both films to boil it down to comparison.
Andrew Adamson's work on the film – which one can only hope is the first of a seven film lineage – is impressive beyond comment, considering this is his first live action endeavor. He does such a fine job with the things that matter, and regardless of whether this visual effect or that one is cheesy or perhaps a little off, the heart is touched by the connection made to the children Pevensie.
The climactic battle scene plays more like a defining character moment than it does an aspect of plot. But above all else, the viewer can imagine his or herself being swept along this adventure with a definite ease – a tribute to the work of C.S. Lewis (which, I'm sorry to say, I have not taken two glances at in ages).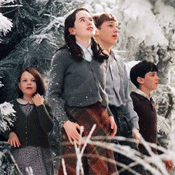 Performances in the film (many of them voice-overs) are appropriately tuned. Henley, as noted, is a sensation, and along with her familial co-stars, Skandar Keynes (Edmund), William Moseley (Peter) and Anna Popplewell (Susan), she serves as the perfect navigator of Narnia.
Ray Winstone and Dawn French are splendid as the voices of Mr. and Mrs. Beaver, providing suitable comic relief and offering a huggable aspect we dread losing.  And Liam Neeson's commanding presence is felt in the voice of lion king Aslan, while Rupert Everett seems an uncannily perfect choice for the role of a wily fox.
All of the voice work is pitch-perfect, really, though someone ought to have pulled the reins on editor Sim Evan-Jones, who is quite reaching as the murderous Wolf.
The real money role in the film, for obvious reasons, is the White Witch, played with the grace and professionalism only Tilda Swinton could afford. These baddie roles are always the best ones to play with on screen. Just ask Christopher Lee (or anyone who has had the opportunity to play a Batman or Bond villain, for that matter). But Swinton does such a great job with a thinly written character, her performance defines the villainess in a way back story or having an inkling as to where she is coming from could have.
Swinton is on many a short list for Best Supporting Actress, but like I said, I think the film has an uphill climb with awards groups – especially the AMPAS. In fact, I feel obliged to offer up my gut feelings that "The Lion, the Witch and the Wardrobe" could have an extremely modest showing at the Academy Awards. Part of me thinks it is an obvious contender for Best Picture, but I largely figure it to be lost in the shuffle, unless it can command a healthy box office stake.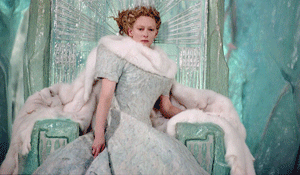 Richard King's work, yet again, deserves notice, and I expect a makeup nomination, perhaps notices for costume design and original score as well, but it's tricky territory. My hopes are not up, but my fingers are crossed.
All things considered, "The Chronicles of Narnia: The Lion, the Witch and the Wardrobe" was one of the most enjoyable cinematic experiences I've had in what has continued to be a terribly disappointing year. The highlights are truly few and far between, and thankfully the holiday season brings with it at least two enjoyable endeavors that, interestingly, expand on the same themes of trusting and depending on family, Adamson's epic and Thomas Bezucha's "The Family Stone."