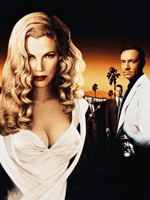 Today is my birthday. I'm 24 years old.
I've been following the Oscar race with some notable level of attention for 8 years. It is by no means a lengthy tenure, as there are others in the game who have been observing this outlandish span of time much longer than that. Even still, in these recent years – the height of the race's popularity amongst the film-going community – I've noticed a number of intriguing things as a witness to its modern evolution.
My first season was the 1997 season. The big films in play were James Cameron's Titanic, Curtis Hanson's L.A. Confidential and Gus Van Sant's Good Will Hunting. It would be a rather poignant introductory year into the process for me.
I knew my favorite films of the year were As Good As It Gets (from director James L. Brooks) and L.A. Confidential. The former struck the right chord at a time in my life where I was truly head-over-hills in love, while the latter was part of a brief progression of cinema – along with Michael Mann's Heat and Bryan Singer's The Usual Suspects – that was greatly sparking my interest and leaning me toward a profession chosen in the filmmaking arena.
I would later discover new-found favorites from the year in Andrew Niccol's Gattaca and Barry Levinson's Wag the Dog. However, when I sat to feast my eyes on the Oscar ceremony in full, I had my fingers crossed that the fabulous Curtis Hanson James Ellroy adaptation I happened to catch at the local theater on a whim three months prior would take the win for Best Picture.
I, like the rest of the galaxy, saw Titanic earlier in the season. I caught it in January with a friend who had really enjoyed the picture and wanted to see it again.
I thought the film was effective. I thought it was LONG. I thought it was a decent enough experience from the director of childhood favorites like The Abyss and Terminator 2: Judgment Day. But I didn't give it any real consideration as a "great" movie, even if I was peripherally aware of the impact it was making on the record books due to its exceptional box office success.
L.A. Confidential would go on to win Oscars for Best Supporting Actress and Best Adapted Screenplay.
I witnessed Kim Basinger tie for the Screen Actors Guild award for Best Supporting Actress – with Titanic's Gloria Stewart – just before the Academy Awards ceremony. It seemed an odd occurrence. I would later discover that it was an extremely unique scenario. But being a great fan of Basinger's film, I had to say my hope was that she would beat out Stewart for the win from the Academy. She did, and all was well. (I would later come across a film called Boogie Nights by a young filmmaker by the name of Paul Thomas Anderson, and I'd then witness what I considered to be the true deserving winner of the Supporting Actress award, Julianne Moore.)
Jack Nicholson would win the Best Actor prize. I had seen him do a guest spot on "Saturday Night Live" a few weeks before the show, and he was becoming a significant hero in my building interest and fascination with all things cinema.
The actor already had a specific place in my heart ever since seeing his bleached, smirking face three times in theaters in my favorite childhood movie, Tim Burton's Batman. And I would later finally see films like One Flew Over the Cuckoo's Nest and Chinatown that I was instructed had better be a part of my filmic knowledge if I was to be serious at all about diving into that world. But in As Good As It Gets, I was genuinely charmed by the character he created, and the story that character inhabited. I was pleased, but not at all surprised to see him ascend the stairs and accept the award for his performance.
And so the stage was set for the final two awards of the night – Best Director and Best Picture.
Everyone had conceded these awards to Titanic, as a film pulling in that amount of money at the box office was destined to take most, if not all of the awards for which it was nominated. I had already witnessed the film sweep the awards ceremony in a lot of these categories, so as an extremely novice Oscarwatcher, the point was rather obvious even to me. But, there again, I knew what my personal favorite nominee was. Surely there was hope?
James Cameron would give his goofy "I'm the king of the world" Best Director acceptance speech, and would soon after come right back to the podium to accept the award for Best Picture. I knew it was going to happen, but I felt this strange emptiness inside that this organization had obviously not just awarded the best film of the year with their highest honor.
For me, and for others, that film was L.A. Confidential. For other film-goers it was Boogie Nights. Some may have felt Best Director and Best Original Screenplay nominee The Sweet Hereafter deserving. Others still, the ignored In the Company of Men. The whole scenario rang false for me.
It would be the beginning of an understanding.
This introductory ceremony made it clear to me that the Academy Awards were not merely about recognizing the "best" in artistic cinematic achievement, if they were about that at all. It was part of a real awareness of the "business" of cinema for me, about how truly different it was than any other business. I now understood that a group of 5,000 people could actually crowd into a room and acknowledge a film for being the highest grossing film of all time under the guise of being the "best" of the lot.
The next year would bring another aspect of this understanding into the picture, as Shakespeare In Love's triumph over Steven Spielberg's Saving Private Ryan would really pull the curtain down in front of money and advertisement being the "secret" to film awards success. I remember reading the stats of Shakespeare In Love's marketing budget compared to its production budget and being genuinely shocked.
And, again, I knew what my favorite film of the year was. It was Terrence Malick's The Thin Red Line, a film I considered the best I'd seen in a decade upon exiting the theater. I was also realistic about its chances, considering the Best Adapted Screenplay category it's only hope for a win. But I figured, as did most, that Spielberg's new distribution company, Dreamworks Pictures, was on a triumphant march to Best Picture glory in the form of his World War II epic, and cinematic landmark, Saving Private Ryan, even if I knew the film wasn't for me.
What a wacky ceremony!
I would go one more year – the first of two attempts at a freshman year in college – before I began writing with some consistency on the Oscar season. When I took up the task of doing so – on an amateur basis – I began to notice other peculiarities.
I began to recognize the patterns of Oscar's history that would begin my obsession with actually PREDICTING how the awards show would turn out. I found there was a small – and rapidly growing – community of fellow obssessees. "Why," I thought, "do so many people care about this ceremony – this concept of awarding art?"
The answer, I discovered, came in the form of the very aspect of this "hobby" that is criticized for being a reason to discontinue the "awarding" of "art." The answer was "opinions."
When you love a film, you LOVE a film. No one can tell you differently. You can be made privy to certain aspects of your love that escaped your reasoning before, but it takes a lot to really force a film lover off of his or her chosen affinity this year or that. When it comes to the concept of judging artistic cinematic achievements on the basis of "best," an advocate is going to go to bat for the film he or she believes to be the year's sensation. Be the advocate professional or amateur, the link we all share is a love for the cinema. You wouldn't be reading these words if you didn't have a curiosity about the outcome of a film awards season, and you wouldn't have that curiosity unless you had a specific vested interest in the film-going world.
So yes, I've learned a thing or two. I've educated myself through research. I've witnessed the "rules" get broken year after year, and I've witnessed new sets of "rules" applied to the game each and every time in turn. But I've also learned that this is indeed a community. I've learned that the very emotions I experienced watching Titanic win the award for Best Picture, another awards-watcher undoubtedly felt watching Dances With Wolves win in 1990, or that another may have felt watching Chariots of Fire win in 1981. And better yet, had those films not won the prizes they did, there would have been others still who felt that sense of disappointment in the Oscar ceremony.
Opinions.
We watch because we hope. We hope because we love. And we love because we don't know what else to do when we're affected the way we are by the cinematic experiences that strike the right chords, that generate the right sense of advocacy, and that spark the right appreciation.
We differ in opinion and we differ in perspective, but we share in the affinity and we share in the experience. That alone not only makes the Academy Awards ceremony – be it a valid ceremony in your eyes or mine – a special event after all, but it makes the awards season as a whole a truly exemplary time in the year of cinematic output. It's a time when we can all come together as a community and agree or disagree about the "best," all the while conceding that such passionate discourse is both absurd and beautiful at the same time.
I hope I'm so passionate for 24 more years to come.
[Photo: Warner Bros. Pictures]