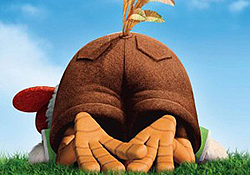 Disney's first fully computer generated in-house animated feature opens next Friday, and in a Fall season that seemingly brings with it a new disappointment each and every week, I have to consider this little gem a breath of fresh air.
I won't dip into hyperbole here. "Chicken Little" is what it is: a swift animated venture aimed at kids with brief attention spans, fit with enough mature giggles thrown into the mix to keep the parents engaged. Though at its heart the film is quite "grown up," dealing with parental issues of believing in one's child that make it more pertinent for a family movie-going experience than most animated features.  The film is still a frothy delight that at the very least reaches the bar for which it aims. That's saying a lot this year.
Taking the well-known fable of "Chicken Little" and her claims that "the sky was falling" after being conked on the head by an acorn, the screenplay –- from writers Steve Bencich, Ron Friedman and Ron Anderson –- expands on the myth.  It weaves a rather comprehensive moral into the mix that goes far beyond the mere warning against exaggeration and ill-informed conclusions the 300-year-old tale proposes.
This was an enjoyable experience on many levels –- even in a crowded Westwood theater surrounded by talkative and fidgety youngsters. The voice talent is of considerably high quality, most especially Zach Braff, who pumps a lot of emotion into the title role (the gender of the character was changed to male early in the process), and Gary Marshall as Buck Cluck, Chicken Little's struggling father who wishes he had the answers his dearly departed wife had in the realm of guidance.
That's right, the film even deals with single parenting -– right under your nose.
I'd prefer not to write too much because analysis of something like this isn't valuable. You'll take from it what you will and the themes are easy enough to pick up on without a critic or columnist hammering them home for you. But while it may not be as inspired or as inventive as "Tim Burton's Corpse Bride," "Chicken Little" is a very charming addition to the pantheon of 2005 animated film product.
(I should add that I was not, nor was the crowd, able to experience the "digital 3-D" technology utilized by the film at this screening, but I'm intrigued nonetheless and may just have to give it a shot once the film opens.)