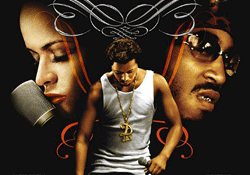 I was finally able to catch Craig Brewer's acclaimed "Hustle & Flow" last night at the Pacific Design Center in West Hollywood. The film was the opening installment of this year's Movie City News Screening Series.
Much hullabaloo has been made this year of Terrence Howard's breakout work in both this and Paul Haggis's "Crash," and let me just say, in "Hustle & Flow" he puts forth the single greatest performance I've witnessed in a number of years. His depiction of DJay, a Memphis pimp with "head in the clouds" dreams of becoming a successful hip-hop artist, boasts an embarrassment of layers that makes one wonder, "Why hasn't anyone tapped into this guy's star potential before?"
His turn in "Crash" was well-developed and largely faithful to the visions of Paul Haggis and Bobby Moresco, but his work in Brewer's film elevates what could have been a flat, uneven character – one that may have seemed overbearing in an insistence on killing stereotypes – to a whole other, transcendent level.
The screenplay is a solid one, fit with loads of creativity and its fair share of dexterity. It may at times feel a little too "safe," steering clear of potentially viable dramatic instances for the sake of keeping on a clean course of success for the main character, but regardless of the typical pitfalls in a film such as this, the story both simmers and pops in equally powerful ways. The bass-tone melody that signifies the inner mode of DJay is fabulously utilized as audible characterization in a film that is all about the rhythm within – marching to the beat of your own drum machine.
Howard participated in a Q&A session following the film and was very insightful about the process by which "Hustle & Flow" developed. He spoke eloquently of the two and a half years of preparation he put into developing the character while waiting for funding (Brewer continuously refused studio suggestion to use a rapper in the lead role). He also discussed the overtime he and the other actors put in after hours during the 24 day shoot. More importantly, however, he really got to the heart of his philosophies on the art form of acting. He was talking to a room largely composed of fellow thespians after all.
The most intriguing bit I took away from his comments was the lesson he learned about honesty in performance. He noted that, through his twenty years of experience in the profession, he has slowly evolved to a place of understanding acting as less about lying, and more about telling the truth. As Morgan Freeman said to him of a potential Oscar nomination, "It isn't going to happen. You're playing a pimp. But…I believed you."
So did I.
And I hope Mr. Freeman is wrong.