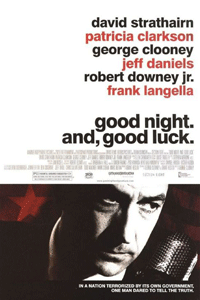 I see many films each year. I write about most of them. But rarely do I feel the need to rush home and pour my thoughts and perspective into a column immediately.
Such was the case with "Good Night, and Good Luck."
The subject of Edward R. Murrow and his valiant stand against McCarthy Era politics is an obvious obsession for director George Clooney. Newsman father Nick Clooney brought the star up in a lefty household that held men like Murrow in the highest regard – men who invented journalism in its modern existence, found its pulse of potential and utilized its merits for a greater, noble good.
When Murrow (portrayed to perfection by David Strathairn) is first revealed in the film, it is a backstage moment before giving what would be seen as an indicting speech in acceptance of commendation at a 1958 Radio and Television News Directors Association convention. He takes a few final puffs from his signature cigarette. A plume of smoke steadily escapes his nostrils. The image recalls a dragon blowing smoke before breathing furious fire.
That's precisely what Murrow was about to do.
Much like how Dwight Eisenhower warned of the coming inflation of military power in our country in his farewell address as President, Murrow spoke candidly of an industry, business and – how he'd likely label it – public service that was being corrupted and ultimately wasted due to adherence to the needs of ratings and entertainment. Of television he noted, "This instrument can teach, it can illuminate; yes, and it can even inspire, but it can do so only to the extent that humans are determined to use it to those ends. Otherwise it is merely wires and lights in a box."
I used that quote in a script of my own that depicted the hyper-real death of journalism in barbaric, satirical terms. I clenched my teeth when the words were used to close out Clooney's film – as any writer would, given the circumstances – but it's the most relevant and organic way to segue the viewer from the world depicted here to their own, eerily comparative reality as they exit the theater. The days of Murrow vs. McCarthy are not that far behind, and on some levels, "Good Night, and Good Luck." speaks volumes to the current political climate.
As a filmmaker, or better yet, as a film theorist, George Clooney grows considerably from his already outstanding debut, Confessions of a Dangerous Mind. He utilizes Robert Elswit's striking black and white photography along with precise camera movements to dig into the heart of the matter, if not always the characters.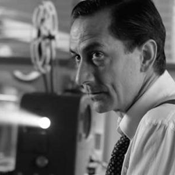 Murrow, for instance, has a wife and son not once portrayed visually, and only commented on in a passing moment. His character could be read by some as iconic but flat, lacking characterization. Given that Murrow, especially as shown in the film, was a man guided almost solely by his profession and sense of public duty, I'd disagree with such an assessment.
But at the same time, I would argue that the character Clooney is more interested in is that of journalistic integrity. You simply will not find many films that better relate themes like this. They are few and far between.
Michael Mann upheld a similar protagonist in "The Insider." Lowell Bergman was a man caught between his ideals as a journalist and the ideals of corporate interests. He was forced into the place of deciding between caving to the check-writers or standing on his own two feet.
Murrow's predicament was all too similar. His Brown and Williamson was Senator Joseph McCarthy, an adamant, out of his mind fear tactician who attempted, unsuccessfully, to stifle the constitutionally protected Freedom of the Press. Clooney uses actual footage of McCarthy to perfection as a showcase for that character in the world depicted. Were it an actual performance, it'd be up for supporting actor consideration.
The film is edited with old-fashioned sensibilities. It's pieced together almost like it were newsreel footage from 1953, moseyed along by an intermittent CBS-standard lounge singer whose voice sets both a tone and setting of elegance and nostalgia.
David Strathairn's portrayal of Murrow is a steady and guided one. There is no showmanship. There is no heightened drama. There is only the actor and the journalist's words. It isn't an "impression" of Murrow – though the similarities are eerie enough. It's a performance that serves as a more than sufficient anchor in this, a lean and taught piece of filmmaking.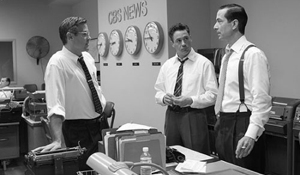 The decision to use Murrow's own speeches throughout the film was a wise one, as he was magical behind the typewriter. As co-writer Grant Heslov puts it, "Here was all this great writing, so why not use it?"
Indeed.
Clooney's own supporting turn as Fred Friendly, producer of Murrow's news program "See It Now", is calm and collected, joined by a competent ensemble (one of the best of the year) that includes Frank Langella, Robert Downey Jr., Patricia Clarkson, Jeff Daniels, Ray Wise, as well as Heslov, in the role of CBS staple and "60 Minutes" creator Don Hewitt. You might recall Philip Baker Hall's portrayal of Hewitt in The Insider.
Mann's film is actually, in many ways, the brilliant converse case-study for "Good Night, and Good Luck." Both films serve up healthy indictments of journalistic malfeasance. They provide a stellar example of the infamous quote, "What is past is prologue." One film stands as a stylistic foray and character study of the most thorough regard, while the other presents a swift, assured and tight angle on a similar tale.
They seem to be bookends to a collection that would include Sidney Lumet's "Network," Alan J. Pakula's "All the President's Men" and Billy Ray's "Shattered Glass," among others, and all exist as dissertations on perhaps the most dutiful profession the world has known.
"Good Night, and Good Luck." is one of the best films of the year.