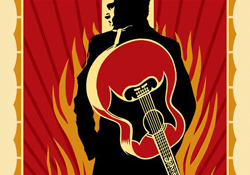 You'll soon see Joaquin Phoenix tearing up the screen with a blistering performance in the story of a seminal rock star's fascinating life in "Walk the Line" – but it ain't Johnny Cash.
The film works very well on its own terms, but I have to say – I just don't like the terms. On performances, the singing in the film is unbelievably on point. Reese Witherspoon is fantastic and it's perhaps her best work yet – a proud moment for the dearly departed Carter.
And Phoenix is on fire, even if I felt like I was watching Joaquin Phoenix the whole time. You see, I never once felt like this was Johnny Cash – unlike Jamie Foxx in "Ray."  And is it really wise to make your main character THIS loathsome for the entire film? Is it even that interesting to do so? Is it very respectful to hold Cash up as a junkie first and foremost? Talk about pillaging a legacy.
And Cash, one of the most spiritual men I've ever heard of, somehow loses all semblance of that inner balance the moment he signs with Sun Records in this film – which is slightly unbearable, and certainly untrue. It only adds to the detesting of the man, the myth – as told by James Mangold.
Seriously, where are the other dimensions? Introduce the pain-killers, make him a monster for the rest of the film. That's it? That's what we're apparently working with here, and while it may make for an electric performance from Mr. Phoenix, perhaps the best of the year, it really isn't a balanced representation of the character, and for that, I can't approve of, nor forgive it. Regardless, it's assured film awards success, likely in the form of nominations across the Oscar board, including Best Picture.
All things considered, I find it hard to believe the filmmakers could begin to cite Cash, Johnny Cash's autobiography, as source material for the screenplay. That book portrayed a much richer Cash than this singularly directional misfit. I didn't believe he deserved the love of June Carter in the film, which is a problem, because I have no doubt he deserved her love in real life.
I love Johnny Cash. I love his flaws. I love his transgressions. But they weren't the whole of the man. "Walk the Line" begs to differ.