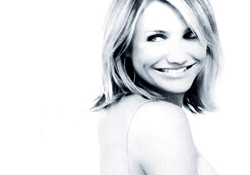 Curtis Hanson's "In Her Shoes" is an exercise in sluggish pacing.  It has a lot to say to its target audience, but it ultimately feels as though the filmmaker behind the project isn't capable of really sparking the conversation.
Cameron Diaz struts about the screen desperately in need of a meal, but fulfilling the empty framework of her character well enough to believably convey a ditz, while Toni Collette capably provides us with yet another brilliant performance in a sub-par film.
The real question mark for me becomes why anyone would have made a big deal of Shirley MacLaine's lackluster performance of a flatly conceived character.
If all we're going on here is the notion that she's going after the "golden oldie" faction of the Academy, look no further than last year's "Spanglish" and ask Cloris Leachman how she liked her Oscar nod to really get a gauge on how this one will turn out.
In the long run, if they share the category per Fox's campaign, I can't imagine someone looking over Collette's wonderful, charismatic and layered performance to go for MacLaine's incredibly overdone imagining of an overly bland persona.
It isn't out of the question to perceive the writers' branch going for the story, as where light entries go, we're in short supply. But even that I find a bit unlikely. After two master strokes in "L.A. Confidential" and "Wonder Boys," Curtis Hanson, though stretching himself, has seemingly lost the touch again.