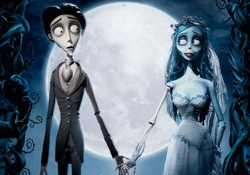 I saw Tim Burton's "Corpse Bride" in Westwood tonight, and it's one of the most enjoyable films of the year. Recalling strands of "Beetlejuice" and "The Nightmare Before Christmas," the film's witty screenplay combines with a bombastic Danny Elfman score and a heightened level of production value to make for Burton's best endeavor of any sort since 1999's Sleepy Hollow, and perhaps since 1994's Ed Wood.
The film tells the story of Victor and Victoria (voiced by Johnny Depp and Emily Watson respectfully) and the deceased bride-to-be (Tim Burton's own bride, Helena Bonham Carter) that comes between them and their arranged marriage.
Burton draws upon his cast of collaborators for a who's who of voice talent. Amongst the contributors are Albert Finney, Christopher Lee, Michael Gough, and Elfman, with Tracy Ullman and Joann Lumley to boot.
Elfman's score, mentioned above, is probably his finest accomplishment in a number of years, varying away from staple thematics and venturing into a broader since of audible storytelling. His further contributions in the form of humorous and cheeky songs scatter the film and add another dimension that wasn't quite reached with "The Nightmare Before Christmas."
Truth be told, Burton seems to have taken the lessons he learned 13 years ago on "The Nightmare Before Christmas" and molded them into the shape of a swift and satisfying yarn that very well may end up taking the Best Animated Feature Oscar at this season's Academy Awards. I'm now betting Elfman could sneak into a nomination for his score, and perhaps a song nod at that. And boy was this film loud! The sound design and editing are both commendable and perhaps award-worthy on some level.
So it's nice to see Tim Burton back in presentable shape after the disappointments that were "Mars Attacks!," "Planet of the Apes," "Big Fish" and the especially loathsome "Charlie and the Chocolate Factory" this past summer. I personally loved every waking moment of the visually stunning "Sleepy Hollow," and though his 1996 Martian invasion extravaganza was something of an insult to his talents, I can actually find some enjoyment in that film as well. His latest string, however, has been a consistent downhill journey.
Until now.