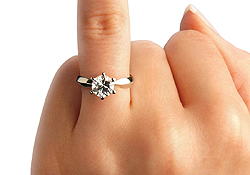 Thomas Bezucha's "The Family Stone" is as refreshingly scripted as one can hope for. His film has magnificent ideas. His characters are thoroughly crafted with a richness unbecoming of the current cinema. His tale brings with it a warmth and a spirit that permeates like the finest emotional experience.
It should be noted that the film I saw is not in its finalized form. There are touches to be made, score to be filled in, a number of variables to add to the mixture. But in the current state, "The Family Stone" is still something to behold.
As for performances, you'll hear many things about Diane Keaton to be sure. Her earthy motherly portrayal is a sincere portrait from an actress at the top of her game yet again. Sarah Jessica Parker sports a showy turn that will leave audiences in stitches. Luke Wilson offers up a chuckler per minute he's on screen. Rachel McAdams stays on course for assured stardom. Dermot Mulroney keeps an even keel and Claire Danes pops in for a touching if understated, and perhaps under-written, spell.
But Craig T. Nelson steals my heart, supporting as the father figure that bleeds a warmth you can't stand to be away from. It's my favorite performance of the year, and it will likely remain under the radar.
I won't yet fully handicap the film's Oscar potential. We need to see where it goes upon release, though I expect this one to find a significant holiday audience. Speculation for Keaton is warranted, but I'm looking five other directions at the moment.
Parker's sparkling irritant could make a play if her category weren't stuffed to the gills. And Nelson would be a personal hopeful, of course. All things considered I think the writers' branch ought to see the sure-handedness Bezucha displays in his sophomore effort. If not for Oscar then perhaps his guild can come through, because writing of this caliber deserves distinction.